NEWS 2020
January 2020:
Air Pollution, Evolution, and the Fate of Billions of Humans
It's not just a modern problem. Airborne toxins are so pernicious that they may have shaped our DNA over millions of years.
"The threat of air pollution grabs our attention when we see it — for example, the tendrils of smoke of Australian brush fires, now visible from space, or the poisonous soup of smog that descends on cities like New Delhi in the winter.
But polluted air also harms billions of people on a continuing basis. Outdoors, we breathe in toxins delivered by car traffic, coal-fired plants and oil refineries. Indoor fires for heat and cooking taint the air for billions of people in poor countries. Over a billion people add toxins to their lungs by smoking cigarettes- more recently, by vaping.
Ninety-two percent of the world's people live in places where fine particulate matter — the very small particles most dangerous to human tissues — exceeds the World Health Organization's guideline for healthy air. Air pollution and tobacco together are responsible for up to 20 million premature deaths each year.
Airborne toxins damage us in a staggering number of ways. Along with well-established links to lung cancer and heart disease, researchers are now finding new connections to disorders such as diabetes and Alzheimer's disease.
Scientists are still figuring out how air pollution causes these ailments. They are also puzzling over the apparent resilience that some people have to this modern onslaught.
Some researchers now argue that the answers to these questions lie in our distant evolutionary past, millions of years before the first cigarette was lit and the first car hit the road. Our ancestors were bedeviled by airborne toxins even as bipedal apes walking the African savanna, argued Benjamin Trumble, a biologist at Arizona State University, and Caleb Finch of the University of Southern California, in the December issue of the Quarterly Review of Biology. But our evolutionary legacy may also be a burden, Dr. Trumble and Dr. Finch speculated. Some genetic adaptations may have increased our vulnerability to diseases linked to air pollution.
It is "a really creative, interesting contribution to evolutionary medicine," said Molly Fox, an anthropologist at the University of California, Los Angeles, who was not involved in the new study.
The story begins about seven million years ago. Africa at the time was gradually growing more arid. The Sahara emerged in northern Africa, while grasslands opened up in eastern and southern Africa.
The ancestors of chimpanzees and gorillas remained in the retreating forests, but our ancient relatives adapted to the new environments. They evolved into a tall, slender frame well suited to walking and running long distances.
Dr. Finch and Dr. Trumble believe that early humans faced another challenge that has gone largely overlooked: the air.
Periodically, the savanna would have experienced heavy dust storms from the Sahara, and our distant ancestors may have risked harm to their lungs from breathing in the silica-rich particles.
"When the dust is up, we're going to see more pulmonary problems," Dr. Finch said. Even today, Greek researchers have found that when Sahara winds reach their country, patients surge into hospitals with respiratory complaints.
The dense foliage of tropical forests gave chimpanzees and gorillas a refuge from dust. But the earliest humans, wandering the open grasslands, had nowhere to hide.
Dust was not the only hazard. The lungs of early humans also may have been irritated by the high levels of pollen and particles of fecal matter produced by the savanna's vast herds of grazing animals.
Dr. Finch and Dr. Trumble maintain that scientists should consider whether these new challenges altered our biology through natural selection. Is it possible, for instance, that people who are resilient to cigarette smoke have inherited genetic variants that protected their distant ancestors from cave fires?
One way to answer these questions is to look at genes that have evolved significantly since our ancestors moved out of the forests.
One of them is MARCO, which provides the blueprint for production of a molecular hook used by immune cells in our lungs. The cells use this hook to clear away both bacteria and particles, including silica dust.
Later, our ancestors added to airborne threats by mastering fire. As they lingered near hearths to cook food, stay warm or keep away from insects, they breathed in smoke. Once early humans began building shelters, the environment became more harmful to their lungs.
"Most traditional people live in a highly smoky environment," Dr. Finch said. "I think it has been a fact of human living for us even before our species."
Smoke created a new evolutionary pressure, he and Dr. Trumble believe. Humans evolved powerful liver enzymes, for example, to break down toxins passing into the bloodstream from the lungs.
Gary Perdew, a molecular toxicologist at Penn State University, and his colleagues have found evidence of smoke-driven evolution in another gene, AHR.
This gene makes a protein found on cells in the gut, lungs and skin. When toxins get snagged on the protein, cells release enzymes that break down the poisons.
Other mammals use AHR to detoxify their food. But the protein is also effective against some of the compounds in wood smoke.
Compared to other species, the human version produces a weaker response to toxins, perhaps because AHR protein is not the perfect protector — the fragments it leaves behind can cause tissue damage.
Clean water, improved medicines and other innovations drastically reduced deaths from infectious diseases. The average life expectancy shot up. But our exposure to airborne toxins also increased.
"If we compressed the last five million years into a single year, it wouldn't be until Dec. 31, 11:40 p.m., that the Industrial Revolution begins," Dr. Trumble said. "We are living in just the tiniest little blip of human existence, yet we think everything around us is what's normal."
The Industrial Revolution was powered largely by coal, and people began breathing the fumes. Cars became ubiquitous; power plants and oil refineries spread. Tobacco companies made cigarettes on an industrial scale. Today, they sell 6.5 trillion cigarettes every year.
Our bodies responded with defenses honed over hundreds of thousands of years. One of their most potent responses was inflammation. But instead of brief bursts of inflammation, many people began to experience it constantly.
Many studies now suggest that chronic inflammation represents an important link between airborne toxins and disease. In the brain, for example, chronic inflammation may impair our ability to clear up defective proteins. As those proteins accumulate, they may lead to dementia.
Pathogens can hitch a ride on particles of pollutants. When they get in our noses, they can make contact with nerve endings. There, they can trigger even more inflammation.
"They provide this highway that's a direct route to the brain," Dr. Fox, of the University of California, Los Angeles, said. "I think that's what makes this a particularly scary story."
Some genetic variants that arose in our smoky past may offer some help now. They might allow some people to live long despite smoking, Dr. Finch and Dr. Trumble suggest.
But the researchers have studied another gene for which the opposite seems to be true: a variant that was once helpful has become harmful in an age of rising air pollution.
More recently, researchers have also discovered that ApoE4 increases the risk that exposure to because it drastically raises the risk of developing Alzheimer's disease. The air pollution leads to dementia.
But these studies were restricted to industrialized countries. When researchers looked to other societies — such as farmers in poor villages in Ghana, or indigenous forest dwellers in Bolivia- ApoE4 had a very different effect. In these societies, infectious diseases remain a major cause of death, especially in children. Researchers have found that in such places, ApoE4 increases the odds that people will survive to adulthood and have children.
Natural selection may have favored ApoE4 for hundreds of thousands of years because of this ability to increase survival. But this gene and others may have had harmful side effects that remained invisible until the sooty, smoky modern age."
NY Times
Food textures affect perceptions of healthiness
"New research has demonstrated how food producers could change the surface texture of products to change people's perceptions and promote healthy eating.
The study, led by Consumer Psychologist Dr Cathrine Jansson-Boyd of Anglia Ruskin University (ARU), investigated people's perceptions of identical biscuits with six different textures.
Published in the journal Food Quality and Preference, the research involved 88 people rating the six oat biscuits on healthiness, tastiness, crunchiness, chewiness, pleasantness and likelihood of purchase based only on their visual appearance, not on their taste or touch.
Previous studies have shown that packaging, labelling and even the texture of a cup or plate can alter people's perception of food. This new study looked at how a food product itself can be perceived differently depending on its appearance.
Oat biscuits were chosen as they can represent both a "healthy" and "unhealthy" snack. The research found that the surface texture of the oat biscuit clearly communicated to people how healthy it was likely to be and the participants viewed the biscuits that had an explicit, pronounced texture, as healthier.
However, the biscuits that had a less explicitly textured surface were perceived to be tastier, crunchier and more likely to be purchased. The study found that perceived tastiness increases as healthiness decreases, and the likelihood of purchasing the biscuit increases when perceived healthiness is low and decreases when healthiness is higher.
Therefore having a 'healthy looking' texture is considered to be a negative attribute in that it reduces perceived tastiness, a key criteria for purchasing biscuits. This has implications for producers of many different food types.
Dr Jansson-Boyd, Reader in Psychology at Anglia Ruskin University (ARU), said: "The findings are really exciting as they give food manufacturers a means to design foods that can help consumers make healthier choices.
A sweet item, such as a biscuit, benefits from having an appearance as being less healthy as that increases the perception of tastiness and increases the likelihood of purchase. To guide healthier purchasing decisions, food producers can therefore look to use non-healthy looking, smoother textures to overcome this perception that healthy is not tasty.
"At a time when the World Health Organisation has declared that there is an obesity epidemic, it is essential to think of ways to encourage improved eating patterns. Our research provides a good starting point in how to promote healthier food products." Neuroscience Journal
Microsoft Pushes Cloud Services to Retailers Anxious to Avoid Amazon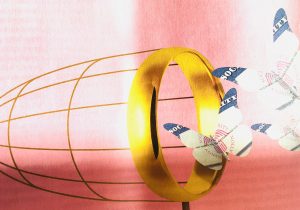 "Microsoft Corp. is unveiling new cloud tools designed for retail customers, seeking to position itself as an alternative to Amazon and corporate software companies like Slack Technologies Inc. and Salesforce.
Microsoft is adding a feature to its Slack rival, the Teams corporate chat program, that lets store workers push a button to turn their mobile phones into walkie-talkies for in-store communications. In a speech on Jan 12 at a retail industry event, Microsoft Chief Executive Officer plans to discuss how Ikea shifted more than 70,000 workers to Teams, using the service for meetings and chat. The home furnishing giant's largest store, in Stockholm, also started using a scheduling feature to manage the shifts of 150 restaurant staffers.
Ikea is also working with Microsoft to determine if Teams can play a role in its "store of the future" concepts. The Swedish company may put video screens in stores that use Teams to connect customers with kitchen design advisers, said Kenneth Lindegaard, an Ikea vice president. The company plans to have the rest of its 165,000-person workforce on Office 365 cloud software and Teams by the end of spring, although Ikea still has some smaller groups using Slack and Google's G Suite, he said. Ikea also uses Microsoft's Azure and Google Cloud, he said.
The retail industry has been one of Microsoft's most successful as the software maker tries to gain ground in cloud computing against market leader Amazon Web Services and lure more customers to its internet-based Office products. Some retailers are loath to work with e-commerce rival Amazon. Nadella and Google Cloud chief Thomas Kurian are set to speak next week at the annual show of the National Retail Federation, the biggest retail trade group, underscoring how significant the industry is to Amazon's biggest cloud competitors.
"A key part of our offering is that we partner and we don't compete," said Bransten, the vice president who oversees Microsoft's work with retailers and consumer goods companies. But there are other benefits to working closely with retailers, she said in an interview. Some of the software products built for retailers will be useful for companies in other industries.
For example, the walkie-talkie feature in Teams can help manufacturers, said Williams, a Microsoft vice president who is charged with adding features to Office and Teams for use by customers in health care, retail, manufacturing and finance." Financial Post
Will Science Ever Give Us a Better Night's Sleep?
"We humans spend a third of our lives asleep, oblivious to our surroundings and temporarily paralyzed. It's a vulnerability that would seem to diminish our odds of survival, so evolutionarily speaking it must also somehow confer tremendous benefits. Yet our best guesses about what those benefits are tend to come from observing what happens when sleep is curtailed. As far as we know, all animals sleep in some way; deprive most of them of it for long enough, and they will die, but exactly why is unclear. In 2015, the American Academy of Sleep Medicine and the Sleep Research Society published a joint statement, based on a comprehensive review of research, saying that "sleeping less than seven hours per night on a regular basis" — which is the case for an estimated 35 to 40 percent of Americans during the workweek — is associated with adverse health outcomes. These include weight gain and obesity, diabetes, hypertension, heart disease and stroke, depression, impaired immune function, increased pain, greater likelihood of accidents and "increased risk of death." The National Institutes of Health reported last year that sleep deficits may increase the beta-amyloid proteins in the brain linked with Alzheimer's disease. But when it comes to "what sleep is, how much you need and what it's for," says Louis Ptacek, a professor of neurology at the University of California, San Francisco, "we know almost nothing — other than it's bad not to get enough of it." Indeed, says David Dinges, one of the statement's authors and a professor of psychiatry at the University of Pennsylvania, "All of this makes it really tough to send out simple messages to the public about when you should sleep and how much you should sleep."
Scientists believe that there are two separate but interrelated internal systems that regulate sleep. The first is the circadian system that tells our body when to sleep. Medicine already knows a great deal about how it works: Approximately every 24 hours, the suprachiasmatic nucleus, a small region in the hypothalamus, orchestrates physiological changes to prepare us for sleep, like lowering body temperature and releasing dopamine. But the second system — the one that tells our body the amount of sleep it needs — is still mysterious. One way to elucidate it would be to find genes that govern how long or deeply people sleep and observe where those genes are active. This fall, Ptacek announced, in the journals Neuron and Science Translational medicine, the discovery of two genetic mutations that seem to cause certain people to sleep far less than average. This brought the number of genes known to be involved in sleep duration to just three.
To learn what genes underlie a given trait or behavior, researchers look for anomalies. If you sequenced the genes of any two random people, you would find millions of variations between them, and there would be no telling which variation contributed to what traits. But diseases or disorders have discrete and relatively uncommon collections of symptoms that, when seen in families, suggest a genetic cause; if you look at the genes of five relatives who all have a particular type of early-onset Alzheimer's disease, for example, and find a mutation that they all share, it's much likelier to be related to their symptoms. Scientists can then engineer the same mutation in mice to see if it produces a similar effect in them. If it does, by observing where the gene is active in the brain, researchers can begin to study the processes that give rise to that specific collection of symptoms; the hope is that those processes will also offer clues to what neural mechanisms initiate more prevalent forms of the disease. Ptacek began the career hunting for genes responsible for neurological diseases and disorders, including Alzheimer's and epilepsy. Then a colleague, a sleep neurologist, approached them with an intriguing case: a woman whose circadian clock seemed to be set four hours early, which caused her to go to sleep around 7:30 p.m. and wake around 4:30 a.m. Even more intriguing, she came from a large family with many members who shared her unusual behavior. This seemed like a rare opportunity. Distinctive sleep traits can be hard to spot, because of all the ways we can manage or obscure them — for example, by altering our natural sleep rhythms with environmental inputs like lights, LED screens, alarm clocks and caffeine. And this wasn't a debilitating disorder for which people would necessarily seek treatment. (The woman did so only because she didn't like waking up when it was "cold, dark and lonely," Ptacek says.) In 2001, the research group, then at the University of Utah, announced it had found a genetic mutation responsible for the woman and her relatives' early rising. After their discovery generated headlines, they were contacted by others who believed they had the "morning lark gene." By giving them detailed questionnaires to identify those whose early rising was innate, rather than environmentally influenced, the researchers happened upon a family with members who woke up early but did not also go to bed early — they averaged only 6.25 hours of sleep per night yet reported feeling fine afterward. Ptacek, by now at U.C.S.F., found that they shared a genetic mutation that caused their short sleep. The publication of that finding in 2009 inspired others who habitually sleep less than seven hours per night to contact the group, leading to the identification of the two additional mutations reported this fall, which appear to cause other forms of so-called naturally short sleep. When engineered in mice, those mutations truncated their sleep without any obvious ill effects; in particular, mice engineered with the second mutation performed just as well on memory tests as non-sleep-deprived mice. The naturally short-sleeping people they've met, the researchers wrote in Science Translational Medicine, seem especially healthy, too; they are also "optimistic, with high pain threshold." (The second of the mutations alters a gene that has also been shown to facilitate learning and memory, reduce anxiety and block the detection of pain.) It's possible, the researchers theorize, that the mutations that cause short sleep are also somehow "compensating for" or rendering people "impervious to" the negative health outcomes typically tied to sleep deficits. If researchers can understand how the mutations alter brain activity, "we can help everybody to sleep more efficiently" — possibly by formulating a drug that achieves the same effect. Because a lack of sleep is associated with such a wide range of negative outcomes, a sleep-optimizing drug could transform almost every aspect of human health. The question remains, though, how to tell whether sleep is being optimized if we don't fully know its purpose. The "work" of sleep, whatever that is, may be getting done more efficiently in the short-sleepers than in the rest of us. Or they may be compensating for less sleep more effectively. "How do we know if you've accomplished the work?" says William J. Schwartz, a neurologist at Dell Medical School at the University of Texas at Austin. "At the moment, still, the routine clinical measure that you're getting enough sleep is that you're not sleepy. That's not going to get us very far." But it is a starting point, however crude, for identifying sleep anomalies, and characterizing more of them in finer detail has begun to reveal other potentially heritable traits. Sleep apnea, for instance, was once thought to be a structural problem with a person's airway; it is now thought to encompass several subtypes, classified by subtly different symptoms throughout the body, some of which might be genetic, says Clete Kushida, medical director of the Stanford University Sleep Medicine Division. "In the next couple of years, there's going to be more exploration and more findings that will show maybe some of the disorders we thought weren't genetic might be genetic, and some that we thought were more homogeneous aren't," he says." NY Times